Published on
Everything You Need for the Mermaid In Your Life On Etsy. These are my Top 10 favourite handmade items from Etsy sellers around the world that will help the mermaid in your life - young or old, to achieve their mermaid goals!
I'm lucky enough to have a wonderful nine-year-old niece who has been big into mermaids for a while, so I like to keep an eye on all of the wonderful mermaid items Etsy sellers have to offer. I hope you enjoy these top 10 mermaid finds I've curated.

What is it about mermaids that hold such appeal? Their secretive nature? Their other-wordliness? I have tried to collate some of the best mermaid items for all ages that capture this..
Everything You Need for the Mermaid In Your Life
I know most Top 10s start at number 10, but I'm doing this one the other way round because I'm so excited to show you my first Etsy find!
I am so happy with this purchase and I'm making it my number one as I have direct experience of this wonderful seller. The doll kit arrived sooo quickly, with totally reasonable postage prices from the US.
This was the perfect package from the otherworldly, intricate illustration to the tiny star shaped split pins (or brads) which come included in the kit.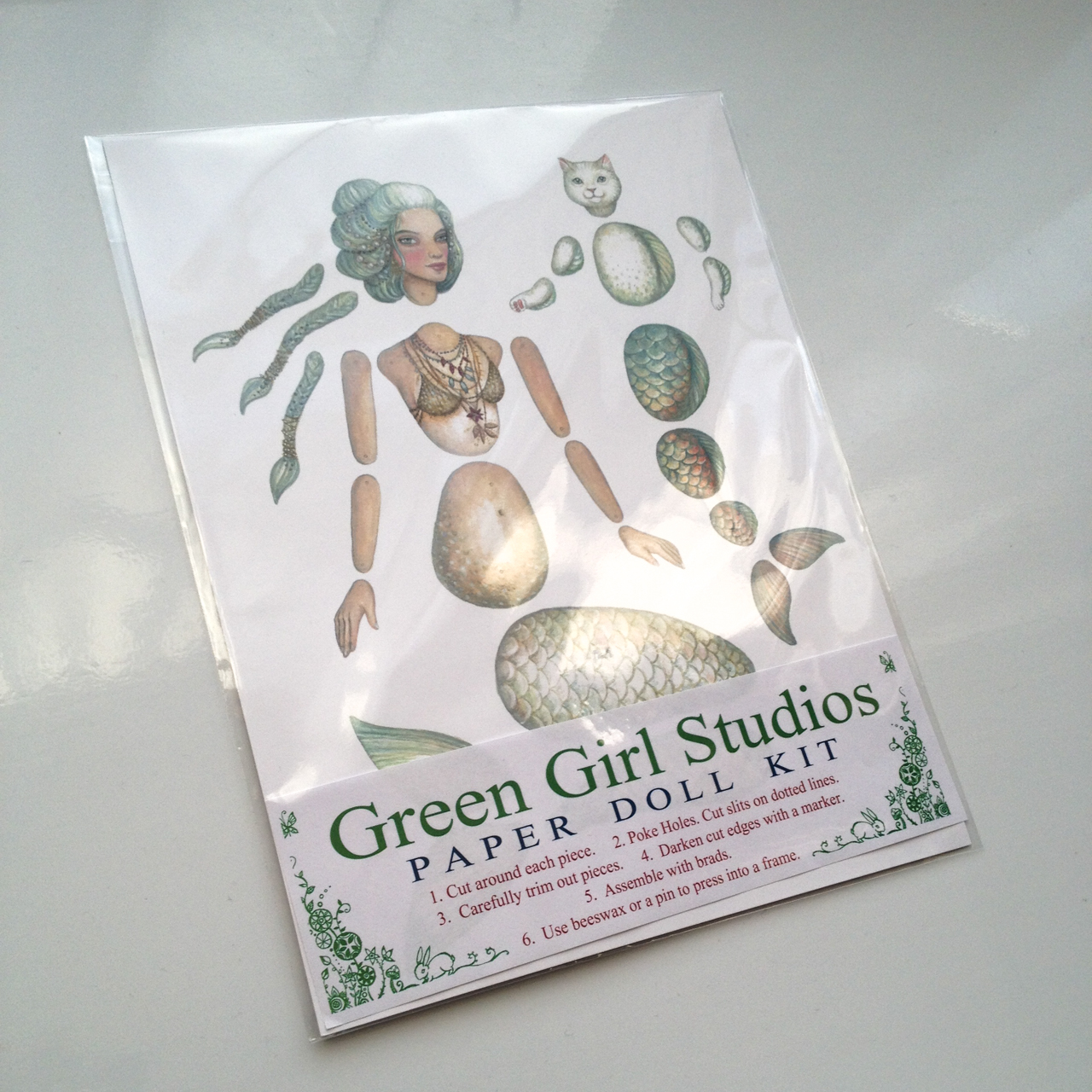 Paper Doll Kit, from £7.46 by cynthiathornton
I absolutely adore cynthiathornton's handcrafted necklaces too. Look at these beautiful necklace pendants:
I love the whole look and feel of this shop - so unique and so beautifully made, it is treasures like this shop that keep me enamoured with Etsy.

Beautiful Handmade Gifts from cynthiathornton, also known as Green Girl Studios. Cynthia also has a website
here.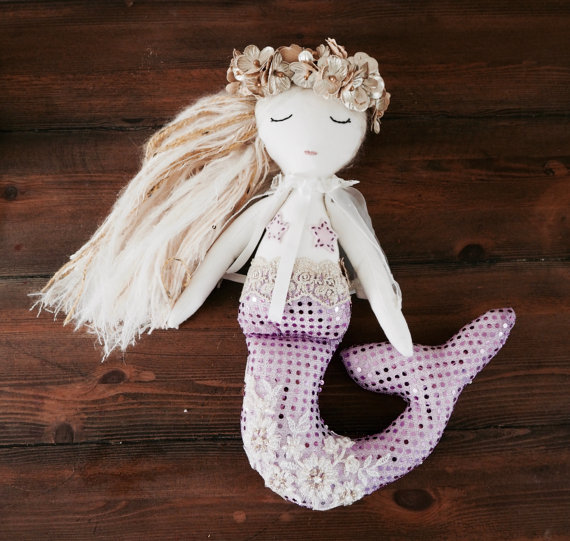 Mermaid Doll from GemBobsCrafts on Etsy, £25
This is a truly special doll with so many beautiful little details and touches such as the embroidered tail and the flower crown.
This beautiful and unique fabric doll is one of many gorgeous handmade dolls made by Gemma Clough from UK Etsy shop, GemBobsCrafts.
Gemma also has a great blog with some really interesting articles about life as a craft seller.
These mermaid hair clips (or barrettes) come in a range of sizes, starting at £3.50 from Forjustoneday, another wonderful UK based Etsy shop selling handmade children's party and dress-up supplies: check out these amazing sequin mermaid tails! I love their pirate party gear too!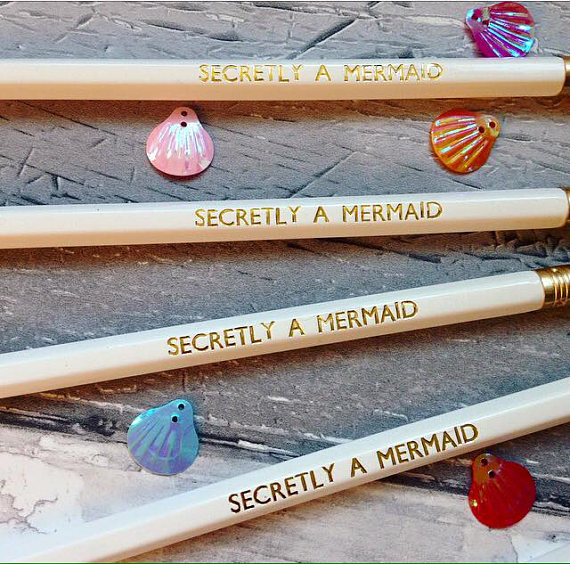 Mermaid Pencils, £1.80 by BabaRoo
At £1.80 each, these would make great party bag fillers. BabaRoo sell a wide range of pretty stationery, mirrors, wall art and make-up brushes.
Check out these rainbow coloured notebooks and these wonderful mermaid-inspired make-up brushes!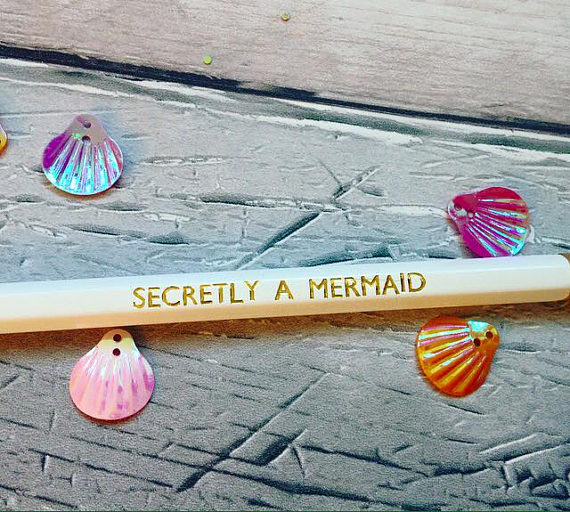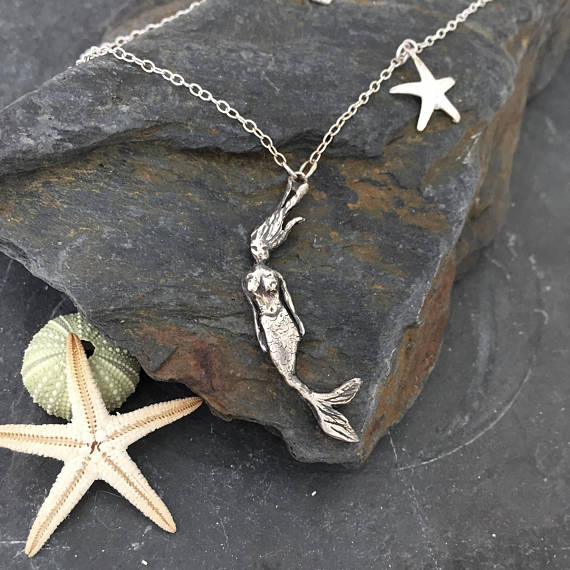 Sterling Silver Mermaid Necklace, £90 by AWolfandI
Perhaps for an older mermaid with more sophisticated tastes, this Sterling Silver necklace hints at the very slightly darker side of the mermaid myth. Jesa Marshall & Al Marshall have given all of their jewels sweet backstories and characters. This mermaid is named 'Muriel'.
"Muriel and her pet starfish Bob. Muriel and Bob have been friends for years and love nothing more than hanging at the beach and catching some waves. Muriel often has a secret hankering for fish and chips...she knows its wrong...don't tell Bob."
Jesa and Al also run their own Jewellery school in Dorset, teaching silversmithing and jewellery making skills; and they have this beautiful website.

For little mermaids, these shimmering leggings from LacedWithLoveShop, USA are made in every size from newborns to 10 years. Some of the ranges also come in adult sizes!
Ashley Mizer makes all her clothes to order by sewing machine. You'll also find leggings for unicorns and dragons and leotards for narwhals!
I just love these mermaid bracelets from stavri, Greece, who offers lots of other charming jewels for all ages, many with a seaside theme.
For those who like the vintage look, there is this Victorian-looking cameo ring from TemporalFlux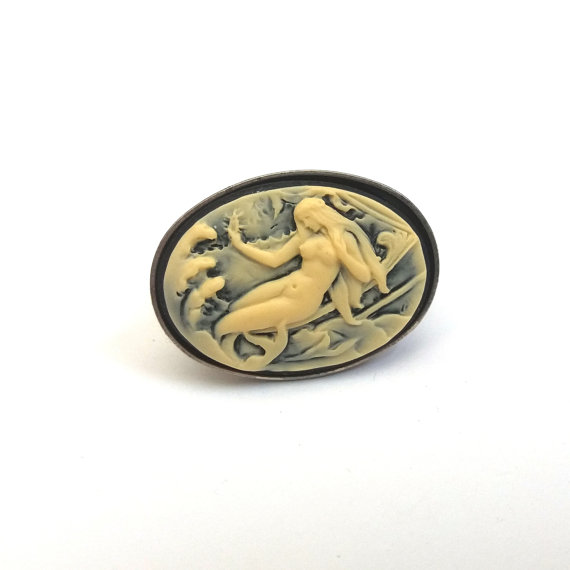 Mermaid Cameo Ring, £8 by TemporalFlux
The ring is adjustable and depicts a beautiful mirror-gazing mermaid.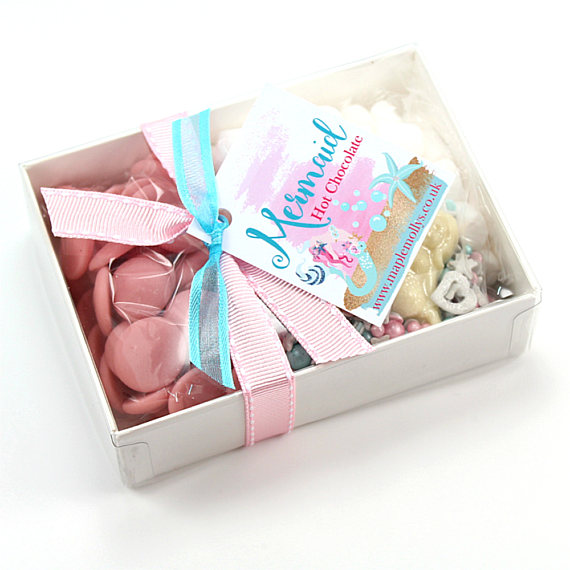 Mermaid Hot Chocolate Kit, £5 from MapleMollys
This is such a great idea! MapleMollys is another UK Etsy shop selling all sorts of luxury chocolate gifts. I personally love bonanza kind of gifts: lucky dips, selections, surprise boxes.. and I would have been thrilled to receive this as a sweetie-loving kid. They also sell vegan chocolate kits and novelty lolly pops.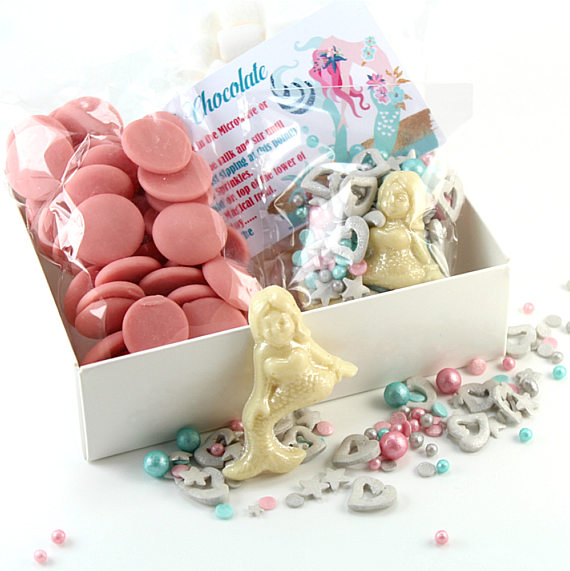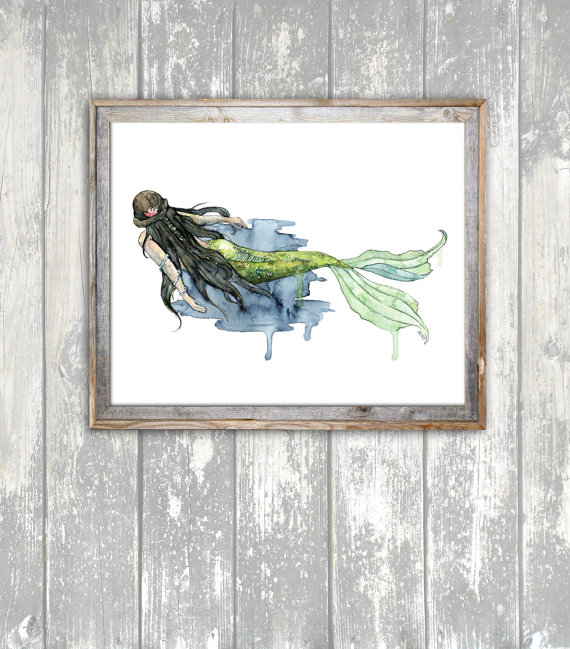 Watercolour Mermaid Print, from £8.95 by TheColorfulCatStudio
This magical print by Rachel Byler, is titled 'Drifting' and captures the ethereal, watery beauty of the mermaid.
She offers many natural world and literary inspired prints with fast shipping and in a range of sizes and paper finishes.
Rachel also donates a monthly portion of the proceeds from TheColorfulCatStudio to a variety of environmental groups, such as Whale and Dolphin Conservation. You can read more about Rachel's work on her website and blog.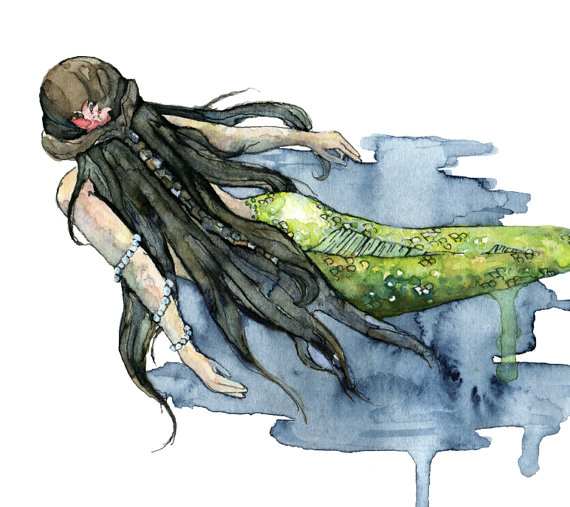 I hope you've found Everything You Need for the Mermaid In Your Life! Let me know what you think! I hope to make curated posts like this more regularly. If you have an Etsy shop and would like me to feature one of your products, please do contact me at hello@piefingers.net or through my Etsy shop. I will be happy to see if I can include one of your products. The next curation topic will be Spring, followed by beautiful notebooks on Etsy, such as this one, by Karen Davis

PLEASE NOTE: All the prices in this post are subject to change and exchange rate fluctuations, but I've tried to be accurate on the day of posting.
If you like the things I share in these curational posts, you can always follow me on Pinterest where I regularly share lovely Etsy finds.
Please do follow me on Instagram and Tumblr and Etsy too and sign up to my newsletter for offers, giveaways, and future blog posts.