Published on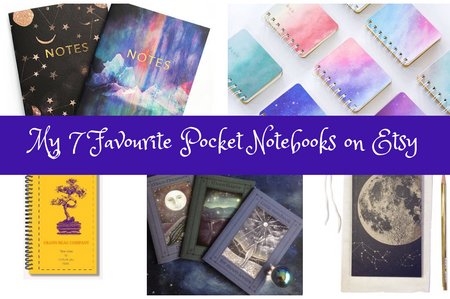 Pocket notebooks make great small gifts. Below are my 7 favourite pocket notebooks on Etsy.
I can't really think of a way to make this post more interesting other than sharing some pretty notebooks, so I will also use this opportunity to point you in the direction of some good people (including my boyfriend, photographer Nick Halstead)! I also have the ulterior motive of shamelessly promoting my own pocket notebooks, available in my Etsy shop. Scroll down to the bottom for them!
I love pocket notebooks because..
* They fit in a bag or back pocket, making them great for travel and jotting down ideas or for sketching while out and about. Nick Halstead uses his for recording his camera settings while doing night photography.
* they are a great way to own (or gift) a small piece of art. Buying printed notebooks helps to support artists and makers when buying artwork is out of your price range.
* everyone needs more beauty and art in their lives: printed notebooks and journals are a useful piece of art you can carry around, and I love things that are both useful and aesthetic.
finally, they are a discreet way to write down your dreams, intentions and manifestations. One of my wonderful customers, Ellekatx (pictured below) used hers in this way - jotting down her manifestations for the coming year. Follow Ali for ethical, zero waste adventures, poetry and just to see a lovely human.



1. Moon Journal by A Little Lark with a reusable muslin bag.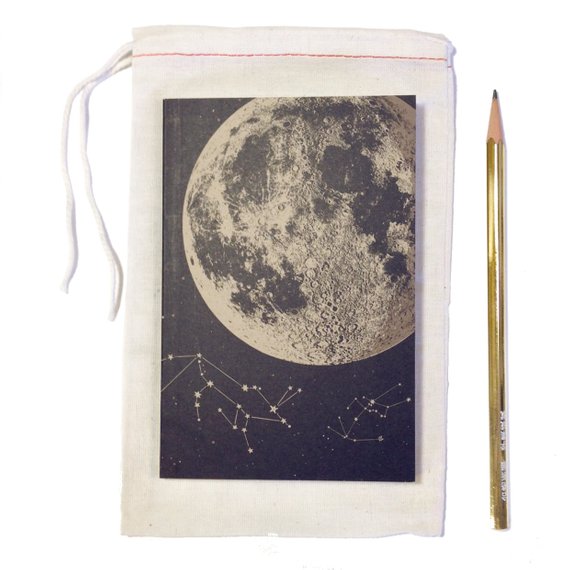 Moon Journal in Reusable Muslin Bag, £7.96 / A Little Lark
This beautiful pocket notebook by A Little Lark comes wrapped inside a reusable muslin bag, which is such a great idea because if you're carrying your notebook around with you, it can easily get messed up and battered in your bag.
These notebooks are also perfectly eco friendly as they are 100% recycled.
A Little Lark is a truly inspiring Etsy shop that has been running since 2007 from Portland, making clothes for all ages, fine art, moon phase calendars, clocks, tote bags and other textiles. All with designs by Christy Nyboer and inspired by the beauty of the natural world.
2. Pocket Notebook ~ Constellations & Northern Lights Set by Nikki Strange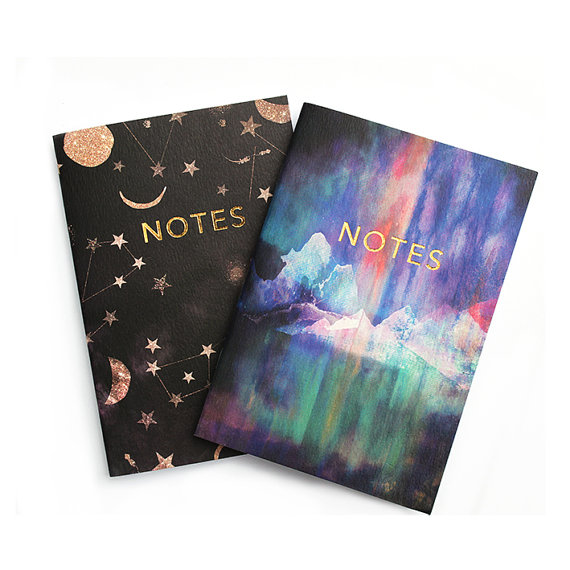 Pocket Notebook Set - Constellations & Northern Lights with gold foiling, £4.99 + / Nikki Strange
These pocket notebooks come with gold foiling and there are so many beautifully dreamy designs to choose from. These journals are so gorgeous that it seems a shame to actually write it them. I got this particular set last year and eventually brought myself to use them as dream journals.
Nikki Strange uses watercolour and ink to create her stunning designs from her studio in Hackney, London.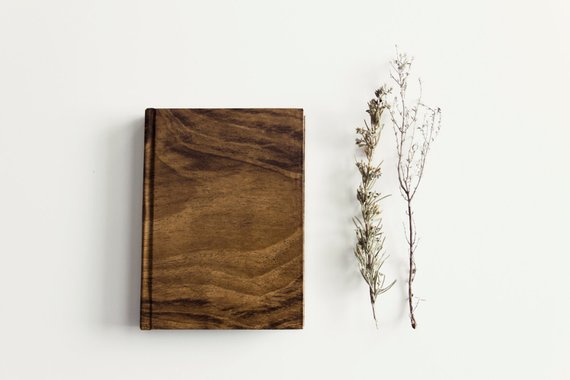 A6 Wood Look Notebook, £15.36 / Cola de Coneho Spain
Another eco-friendly journal, this A6 notebook (C6) is a high quality wooden look journal, and the only hardback notebook in my list. It is handmade by Coladeconejo, who also sell charming badges and stationery.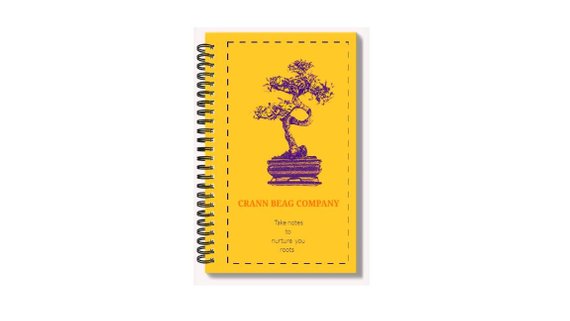 A6 Bonsai Notebook by CrannBeagCompany, £1.67
Peter Radcliffe of the Crann Beag Company makes Bonsai related products from his shop in Ireland, including these simple, unique notebooks that are affordable and high quality.
'Take notes to nurture your roots' appeals to me as I love how an idea we jot down one day can grow into something bigger and better over time. I'm pleased to discover that Peter is taking part in Inktober on Instagram, follow his developments here.
5. Mini Galaxy Notebook by Caribou Milk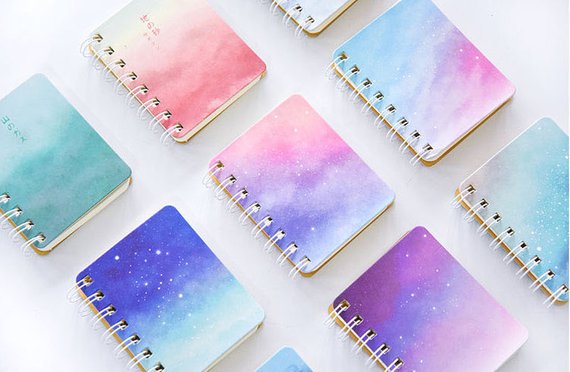 Mini Galaxy Pocket Notebook by CaribouMilk, £6.03
I just love these mini galaxy notebooks by Caribou Milk because they are simple, celestial and pretty. Perfect little stocking fillers.
Caribou Milk is heaven if you are a stationery addict or a fan of the colourful and the cute.
6. A6 Notebooks 'For Those Who Love the Moon', by Karen Davis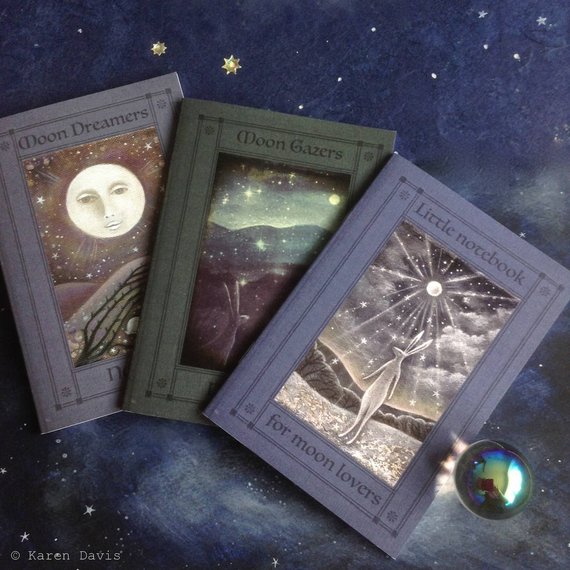 A6 Notebooks 'for those who love the moon' x3, karendavis, £7.50
"My work is inspired by the magic of nature, folklore, myth stories, light and the moon"  ~ Karen Davis makes the kind of art I dream of making one day and I want to live in the world she paints!
This beautiful set of A6 notebooks for moon lovers is made from recycled paper.
To see more of Karen's magical artwork, enter her world here.
Sun and Moon Journal, £22.29 + / White Pigeon Bindery
I have included this notebook by White Pigeon Bindery, as it is handbound, making it that bit more special.
This sun and moon celestial journal comes in different sizes, including pocket sized / A6 size.
.. lastly, pocket notebooks made by me ..
Click on any of the pictures below for my pocket notebooks and notebook sets. They are all fully recycled, completely eco-friendly gifts for yourself or a loved one.
I send all notebooks out in biodegradable sleeves made from corn or potato starch. These sleeves look like plastic, but can be disposed of without guilt and can even be composted. For more information on this, please see my packaging supplier, Eco-Craft. If you run any kind of small business in the UK, I can't recommend them enough for packing supplies.
I've got really into dream interpretation over the past few years and I mainly use pocket notebooks for dream diaries, but I am finding that I quickly run out of space. So I will be printing some new, larger sized notebooks. Look out for a limited edition run of A5 size notebooks before Christmas in my Etsy shop.
For an instant 25% coupon to use in my Etsy shop, please sign up to my newsletter for offers, giveaways, and future blog posts. I promise not to spam your inbox too frequently and you can unsubscribe at any time!
You can also follow me on Pinterest, Tumblr and Etsy.
If you'd like to get in touch about anything, please contact me at hello@piefingers.net or through Etsy.